---
Forgiveness: The Key to Happiness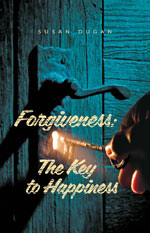 Buy my new book in paperback here!
Buy my new book for Kindle here!
In Forgiveness: The Key to Happiness, Susan Dugan continues to recount her personal journey in learning to change the purpose of our relationships from rooting ourselves more deeply in a childish dream of separation, to growing up to accept our shared interest in remembering the uninterrupted, eternal love of our true nature. Her deeply poignant, entertaining essays explore how to really live the teachings of A Course in Miracles, learning to view our lives as a classroom in which we encounter a better way of relating to each other through the inner teacher of forgiveness instead of sin, guilt, and fear. By making our relationship with our inner teacher the most important thing, we discover how to honor the power of everyone's decision-making mind by connecting with our own, recognizing our own mind in need of healing in our desire to fix, change, and control others. Ultimately realizing, through moment-to-moment practice, how to relate to all there is from a healed perspective beyond guilt, blame, and need.
Many of these selected and heavily edited (occasionally completely rewritten) essays first appeared temporarily as drafts on my blog. Read consecutively, they reflect another leg in my seeming journey home through practicing A Course in Miracles' extraordinary forgiveness of what never was in the ordinary "classroom" of my daily life.
Reviews
"There is no doubt in my mind that Susan Dugan is going to burn to a crisp in hell for this book!"
– The ego, best-selling author of, well, that would be Everything!
"This book cracks me up!"
– Jesus, author of the Indie sleeper, Seriously?
---
Forgiveness Offers Everything I Want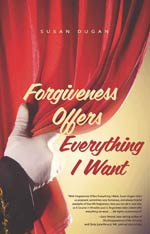 Order the book from Amazon here.
In Forgiveness Offers Everything I Want, Susan Dugan continues to share her lively, poignant journey juggling work, family, and forgiveness A Course in Miracles-style first chronicled in her previous book, Extraordinary Ordinary Forgiveness. Forgiveness Offers Everything I Want takes up roughly where the last essay collection left off, and conveys the author's growing faith that no matter how wrenching, wild, or wacky the dream of our lives may appear, we always have a choice about which inner teacher we are looking and listening with: the ego, the part of our mind that believed the "tiny, mad idea" of separation from our source had real effects. Or the "right mind" that remembered to gently smile at the bizarre thought of it. Through day-to-day practice we learn that choosing the inner teacher of fear hurts, while choosing the inner teacher of kind forgiveness yields peace that defies understanding and includes everyone and everything in its warm embrace.
Susan Dugan practices, teaches, and forgives in Denver Colorado. Her previous ACIM book, Extraordinary Ordinary Forgiveness, was a finalist in the 2012 National Indie Excellence Awards. She continues to blog about her ongoing forgiveness journey and share Course teachings on her popular website: ForaysInForgiveness.com. Her short stories have appeared in a wide variety of literary magazines and a collection of her linked short stories, Safe Haven, was a finalist for the 2012 Colorado Book Award.
---
Extraordinary Ordinary Forgiveness
In mid argument with a loved one, as we stand unfairly accused, we would much rather be right than happy. As practicing forgiveness raises our awareness of our attraction to and identification with the ego's sneaky ways, our pain often increases. Some of these essays are reports from the eye of just that storm, accounts of my own fear, paralysis and mistaken belief in and attraction to a false, ego controlled self. But in each case, I got through by continuing to ask for help from the part of our mind that sees only our one true self and can never fail us. Today I am spending far less time in the eye of the storm and far more embracing the instant of release that reflects the real world available when we have forgiven all that would hurt us. You can, too.
---
Safe Haven
Awaiting news of her son gone missing during World War II, a mother recalls his childhood victory over polio. A young woman weighs the promise of John Kennedy's new frontier against the reality of her best friend's breakdown. An extramarital affair propels a suburban mother to awaken to true desire on the eve of the Apollo 11 space walk. The discovery of an abandoned infant in a dumpster unites a mother, daughter, and granddaughter in startling ways. In her wry and wrenching debut collection of linked short stories, Safe Haven, Susan Dugan inhabits the lives of three generations of American women seeking refuge from the harsh realities of their moments in time and finding it at last where they forgot to look; patiently waiting in their own backyards. Each character shares a deep longing and active seeking for an elusive seeming love that will never fail them, and a sense of true meaning and purpose in an ultimately meaningless world. Their quest is our own.