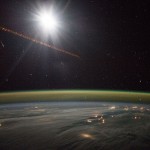 "Oh, give it a rest, for Christ's sake," the ego triumphantly scoffed. "Can't you see it's gone? For freaking ever! Just like everyone and thing else around this sorry burg."
I tossed another empty purse I'd plucked from the closet onto the bed in despair. I'd been ransacking the house again, desperately trying (really, is there any other way?) to find the elusive yellow feather Ken Wapnick had given me (as he had given so many of his students) several years ago. Following an interview with him at the Foundation for A Course in Miracles in Temecula, California, in which I'd bitterly complained (really, is there any other way?) about the impossibility of ever mastering this path of learning to live a truly forgiving and forgiven life. I was to use the feather, he explained–deftly ignoring my complaints that there was simply not enough time in the whole stinking hologram to sift through this seemingly bottomless "grab bag" of guilty grievances he often referred to–to "tickle" the seriousness with which I tended to take myself, this world, this Course, this so-called life I found myself mucking up so royally. Which, by the sound of it these past few weeks; I'd apparently been doing again in spades. I needed that God-damn feather right now! Where in hell could it have gone?
"Your youth, your talents, your meager faculties and future," the ego droned on.
"I'm not listening."
"Your skin tone, your brain cells … oh, and, then, well, there's the matter of your daughter. Gone, just like that–poof!" He snapped his fingers. "For freaking ever," he repeated. "I mean; yikes!"
I attempted to ignore him, turned, and stormed back downstairs, the ego hot on my heels, and began banging around in office and kitchen drawers and cabinets, covering barren territory I'd already scoured, to no avail.
Undeterred, the ego held a fake microphone to his lips and launched into an off-key rendition of Hall and Oates' '70s hit: She's Gone. 
Everybody's high on consolation," he began, in frightening falsetto.
"Seriously?" I said; crossing my arms over my chest and unleashing the look reserved for special occasions and recipients that could still clear a room in this house in seconds flat.
But he continued to croon, undeterred, voice rising with the chorus:
"She's gone, oh I, oh I'd
Better learn how to face it
She's gone, oh I, oh I'd
Pay the devil to replace her
She's gone, what went wrong?"
He boohooed one last time into his fist, smiled his Joker's smile, and bowed.
I rolled my eyes, another latent, lethal talent.
"Now that's my girl, right there!" he cried. "That's the winning pout of my dreams. See, all you needed was a little pick-me-up, right?  I know, what say we drown our sorrows in a couple, few emails."
He grabbed my iPad, sat on my filing cabinet, and began clicking through the morass of my Gmail inbox. "OK, now this is rich," he said. "Here's your horoscope for the day, sweetheart." He cleared his scaled throat. "'Unfortunately, other people may not be especially sensitive to your needs, so beware. It might be best for you to put up some sort of psychic shield to protect yourself from other people's garbage!'"
He hissed with delight, cracking himself up. "I mean, you can't make this stuff up!"
"I don't recall asking for your opinion," I said.
He winked, lowered his reptilian rap. "Of course you don't, sister. That's part of the whole ingenious plan. Forgot to read the fine print, did you? Pity!"
"Jesus!" I cried, unable to stand one more minute of his boneheaded banter, and was instantly transported back to my imaginary inner classroom, still clutching the offensive personal communication device.
"Long time, no see with," my inner professor said, smiling his gentle smile. (I taught him that line. I really needed to supply him with some fresh material.) He pushed back the stack of papers he'd been grading and folded his hands.
"What can I do for you today?" he asked, focusing completely on me, right here, right now. He taught himself that. You could tell he really meant it, too, that he could help with absolutely anything. It made you feel special. Until you remembered that he said the same thing to every student that came here, and really meant it, which was even better, in the long run, anyway, but in the short run; totally sucked.
I plopped down in the chair facing him, reached across his desk, and handed him the dire horoscope message.
He smiled and handed my iPad back to me. "We've talked about this," he said.
"Right" I said. "But just for the record, just so you know, I mean, while we're on the subject of astrology, I don't really hate Leos."
His eyes widened.
"Only some of them."
His brows shot up the way they do.
I cleared my throat and leaned toward him. "Actually, I find that every astrological sign has plenty of despicable qualities. No need to make anyone feel left out."
He smiled again, but we both knew it really had nothing to do with what I'd just said, which was already feeling heavy, hollow, cutting far too close to the bone for mirth. Damn! I really needed that feather!
I sighed, my academy-award worthy sigh. "Tell me again I'm not a bad person, Father. You can give me any penance you want."
"Oh, come on, you don't really want to play that game again, do you?"
Outside the window behind his desk, a pair of crows hollered back and forth, back and forth, before wheeling off into the clouds in mutual loathing.
Jesus leaned back, propped his sandaled feet up on his desk, and waited.  (Have I mentioned he has the patience of a saint? Have I mentioned I do not?)
"It's just that I want to feel lighthearted again," I said. (OK—whined.)
His eyes widened.
"Oh, come on; give me a break. There was that one time in nineteen … oh, never mind. Maybe we could just stream a TV show to keep our mind off these unfortunate dreams I've been having. My fingers moved like spiders on steroid across my device's screen. OK, here are some choices: Mad Men, The Americans, The Next Food Network Star, Astronaut Wives, or Proof?"
He looked puzzled.
I began to try to describe each program but exhausted myself after only five minutes attempting to explain the convoluted childhood back story (really, is there any other kind?) of Mad Men's main character Don Draper, used to justify the outrageous, bad-boy extraordinaire antics that had lured countless fictional characters into his Madison Avenue web of inequity. Wild stunts that continued to cause ravenous viewers, like me, to place the show and its dubious hero at the top of our Netflix playlists of guilty pleasures.
"Did I mention he's quite the looker?" I asked.
He nodded.
I sighed again, and hung my head.  "Alright, then," I conceded. "Let's talk about all the things I'm not upset about for the reason I think and could see peace instead of if I wasn't such a sorry excuse for an A Course in Miracles student."
"OK," he said.
But we both knew that, although that playlist was getting very crowded, there really was only one sad song that wouldn't stop spinning in my head. My twenty-two-year-old daughter had moved away almost two months ago and I still didn't know what to do with the infinite-seeming chasm of her absence that, as the ego continually pointed out, seemed to have robbed everything else in my life of not only meaning but forward momentum. Including my writing, that usually helped me find my way back here.
"Have I mentioned she's gone?" I said.
He nodded.
I handed him the iPad again, cued to a YouTube of Hall and Oates singing their sad song https://www.youtube.com/watch?v=-xgM_nsqzpE, and dragged my chair around to my teacher's side of the desk. He held my hand as we listened together, handed me some tissues from his imaginary, invisible, inexhaustible supply.
"It's just that I don't really know what to do next, you know? I keep asking but you've been pretty damn silent on the subject. Whereas, my other inner teacher hasn't shut his freaking pie hole in months."
He nodded again.
"I see what you're saying," I said, after a while.
"You always do."
"Eventually," I said.
He smiled.
"The ego is an unreliable narrator. His version of my stories, all mortal, worldly stories, always supports the belief that I exist woefully apart (I mean, is there any other way?) from what we really are together outside this dream of special interests, but it's not my fault. His version always strives to strengthen the lie that an imaginary body—mine or theirs, his, hers, or it's—can bring me pleasure and cause me pain when only my mind can do that."
I sighed again. I mean, who could blame me? "When the truth is," I soldiered on, "no one outside my mind–not my body, not even the bodies I most love to love and hate–can enhance or destroy the peace and joy and completeness of my, our undifferentiated union with our source, the ego's frightening falsetto  and lyrics, notwithstanding. And the 'fact' that the volume and frequency of his voice has been on the rise is no coincidence as I experience what appears to be a really big change that feels like a stupendous loss in my most special relationship of all."
Jesus continued to hold my hand and smile.
"And while that awareness is an essential step in our return to the awareness of unopposed Love, another more crucial and difficult step remains.  I still need to admit that I don't want the Course's answer when it comes to my daughter, and forgive myself for it. I mean, no offense, your hand is nice, but it's not hers. The truth is; I'd rather pine away for her hand than accept the permanent comfort of yours. That's just where I'm at."
"I know," he said.
I sighed.  Again. "I see what you're saying," I said. "It may be where I'm at, but it's still not what I am. Or where I'm going, for that matter. Hard as I try to prove it when I'm tuning into the ego's playlist, it doesn't make me a bad person. Hard as I try to deny it, when I'm ready to move on, to take another step, you'll be right here waiting. Still holding my hand, actually, even though I may have again forgotten where and what I am."
We sat a while in a silence that involved more tissues from his imaginary, invisible, inexhaustible supply.
"Well, I'm glad we had this little chat," I said, at last. "I suppose I better get back to my desk. Write some of this down before I forget again. Any last words of advice?"
He did an astonishing thing, then. He reached behind my ear like my grandfather had when I was a child. But instead of pulling out a nickel, he pulled out a yellow feather, and handed it to me. Honest to God! I mean, you can't make this stuff up! Well …
"In gentle laughter does the Holy Spirit perceive the cause, and looks not to effects. How else could He correct your error, who have overlooked the cause entirely? He bids you bring each terrible effect to Him that you may look together on its foolish cause and laugh with Him a while. You judge effects, but He has judged their cause. And by His judgment are effects removed. Perhaps you come in tears. But hear Him say, 'My brother, holy Son of God, behold your idle dream, in which this could occur. And you will leave the holy instant with your laughter and your brother's joined with His." (A Course in Miracles Chapter 27, VIII. The "Hero" of the Dream, paragraph 9)
It has never been easier to avail ourselves of the Foundation for A Course in Miracles' mind-healing programs! The Foundation continues to offer the most profoundly transforming classes in how to fully understand and truly live A Course in Miracles' principles. I attended the July academy class, The Grab Bag of Guilt Revisited, via live streaming, and it has once again taken me to a deeper, more honest place with my practice. Take a look at the programs available in the next few months and consider signing up for a class in Temecula or attend in the comfort of your own home or watch later through the crystal clear live streaming option. I could not recommend this experience more highly! (See links below for more information.)  
More news from The Foundation for A Course in Miracles:
A new CD/MP3-CD/MP3Download set entitled "The Dawning of Consciousness: The End of Oneness" will be available for sale on the Foundation's Website beginning August 12, 2015. While you are presently unable to order the product, this link will take you to a description and pricing information.
During the month of August, the Foundation is offering thirty-six CD and MP3-CD titles for sale at 40% off the regular price. (Downloadable MP3s are not included). These thirty-six titles are different from those offered during the months of June and July, and include eleven titles available for the first time as MP3-CDs. Clicking here will take you to a listing of titles with links to the products included in this month's sale.

The Foundation will be presenting a 2-Day Academy, How to "Find Joy in a Joyless Place." The Academy will be conducted by Dr. Jeffrey Seibert and Dr. Rosemarie LoSasso, and will be held on Tuesday and Wednesday, August 18-19, 2015.
If you are unable to attend the 2-Day August Academy in person, please join us online via Live Streaming.
COMING SOON! Due to popular demand, From The Lighthouse, an anthology of articles written by Kenneth and Gloria Wapnick, will be published as an 8 1/2 x 11 hardcover book (550 pages). These articles were published in The Lighthouse quarterly newsletter of the Foundation, begun in 1990, with continuous publication through its final issue in March 2014. The book will be available in mid-October 2015.
Please view our Temecula Schedule page to see the new Seminars and Academy classes, including Live Streaming of the classes, scheduled through March 2016.
­­­­­­­­­­­­­­­­­­­­­­­­­­­_______________________________________________________________________
My new book, Forgiveness: The Key to Happiness, is available on Amazon in paperback and for Kindle.
Here's the book description:
In Forgiveness: The Key to Happiness, Susan Dugan continues to recount her personal journey in learning to change the purpose of our relationships from rooting ourselves more deeply in a childish dream of separation, to growing up to accept our shared interest in remembering the uninterrupted, eternal love of our true nature. Her deeply poignant, entertaining essays explore how to really live the teachings of A Course in Miracles, learning to view our lives as a classroom in which we encounter a better way of relating to each other through the inner teacher of forgiveness instead of sin, guilt, and fear. By making our relationship with our inner teacher the most important thing, we discover how to honor the power of everyone's decision-making mind by connecting with our own, recognizing our own mind in need of healing in our desire to fix, change, and control others. Ultimately realizing, through moment-to-moment practice, how to relate to all there is from a healed perspective beyond guilt, blame, and need.
I will be speaking Friday, October 16th, at Miracle Share's 2015 virtual conference, "Awakening Through the Workbook," along with many other A Course in Miracles teachers speaking that weekend. Please learn how to join us by clicking here: http://www.miracleshareconference.org/join-us/?ap_id=112192
­­For those of you in Colorado, my friend and fellow ACIM student and teacher Bruce Rawles is offering a workshop–Navigating the Dream with Forgiveness: Our Inner Kindness Teacher's Dashboard–at the Rocky Mountain Miracle Center in Denver. Sunday, August 9th. Bruce and I often team up to chat about Course themes on YouTube. He is a warm, light-hearted presenter, with a unique gift for metaphor!
The Denver-based School for A Course in Miracles (formerly the School of Reason), an A Course-in-Miracles teaching organization, has a beautiful new website: http://www.schoolforacourseinmiracles.org/, with information on great new and ongoing classes based on Ken Wapnick's teachings.
In the San Francisco Bay Area, the Center for A Course in Miracles http://www.centerforacourseinmiracles.org/index.html, is an educational Center whose focus is to teach what A Course in Miracles says, address common misunderstandings, and help students develop a relationship with their internal Teacher, inspired and guided by the teachings of the late Dr. Kenneth Wapnick.
The Interviews page on my forays website been revised to make it easier to find and access interviews with Ken Wapnick and others including Gloria Wapnick, and FACIM staff teachers.
HALF-HOUR, FORTY-FIVE MINUTE, OR HOUR-LONG ACIM MENTORING SESSIONS AVAILABLE: Although A Course in Miracles is clearly a self-study program and the one relationship we are truly cultivating is with our eternally sane and loving right mind, mentoring can help remind Course students having trouble applying its unique forgiveness in the classroom of their lives that the problem and the solution never lie in the difficult relationship, situation, behavior, health issue, etc., but in the decision-making mind. In every circumstance, without exception, we can choose to experience inner peace and kindness toward all, unaffected by the seemingly random strife of a world designed to prove otherwise. By choosing to look at our lives as a classroom in which we bring all our painful illusions to the inner teacher of forgiveness who knows only our shared innocence beyond all its deceptive disguises, we learn to identify and transcend the ego's resistance, hold others and even ourselves harmless, and gently allow our split mind to heal. Sessions are conducted via traditional phone or Skype (your choice). Please contact me to find out if mentoring is right for you before submitting a payment. (No one is ever turned away for lack of ability to pay!)
Here's a new audio of another conversation I had recently with CA Brooks, 12Radio, discussing lesson 200: "There is no peace except the peace of God."  http://www.12radio.com/archive.cfm?archive=6C40275B-26B9-4187-869E372A409CC0FC 
In this recent video Bruce Rawles and I discuss themes from my new book, Forgiveness: The Key to Happiness: https://www.youtube.com/watch?v=3vEbI3jH8Sk 
My good friend and fellow Course student, teacher, and author Bruce Rawles frequently invites me to chat with him on YouTube about the Course and Ken Wapnick's teachings. He continues to compile lots of great ACIM information well worth checking out at ACIMblog.com.
My good friend and gifted A Course in Miracles teacher and writer Bernard Groom has been posting beautifully written, heartfelt essays about living A Course in Miracles for years at ACIMvillage.com. Bernard lives and teaches in France with his dear wife Patricia. You'll find a wealth of information in French on his website including recorded talks available for purchase or free download.
My previous ACIM essay collections, Forgiveness Offers Everything I Want and Extraordinary Ordinary Forgiveness  are available on Amazon in both paperback and kindle versions. If you read and find any of these books helpful, I would greatly appreciate you posting a brief (a sentence or two is fine) review on Amazon.