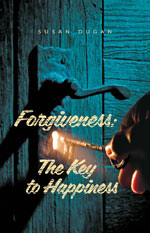 My new book, Forgiveness: The Key to Happiness, has just been released on Amazon in paperback and for Kindle.
Here's the book description:
In Forgiveness: The Key to Happiness, Susan Dugan continues to recount her personal journey in learning to change the purpose of our relationships from rooting ourselves more deeply in a childish dream of separation, to growing up to accept our shared interest in remembering the uninterrupted, eternal love of our true nature. Her deeply poignant, entertaining essays explore how to really live the teachings of A Course in Miracles, learning to view our lives as a classroom in which we encounter a better way of relating to each other through the inner teacher of forgiveness instead of sin, guilt, and fear. By making our relationship with our inner teacher the most important thing, we discover how to honor the power of everyone's decision-making mind by connecting with our own, recognizing our own mind in need of healing in our desire to fix, change, and control others. Ultimately realizing, through moment-to-moment practice, how to relate to all there is from a healed perspective beyond guilt, blame, and need.
Reviews
"There is no doubt in my mind that Susan Dugan is going to burn to a crisp in hell for this book!"
– The ego, best-selling author of, well, that would be Everything! 
"This book cracks me up!"
– Jesus, author of the Indie sleeper, Seriously?
(Many of these selected and heavily edited (occasionally completely rewritten) essays first appeared temporarily as drafts on my blog at ForaysInForgiveness.com. Read consecutively, they reflect another leg in my seeming journey home through practicing A Course in Miracles' extraordinary forgiveness of what never was in the ordinary "classroom" of my daily life.) 
If you read the book and find it helpful, please consider recommending it to your Course-student friends and posting a brief review on Amazon!
---
RECENT ANNOUNCEMENTS FROM THE FOUNDATION FOR A COURSE IN MIRACLES:
"Oldies but Goodies" Sale
The Foundation is offering our CD and MP3 CD sets numbered 1 through 50 at a 40% discount for the month of April. While these audios were recorded in the 1980s and 1990s, they are ageless in content. Many students will be surprised to find the very same teachings in these sets as are in those recorded in Kenneth's later years. Please click here to find a listing of titles with links to the products included in this sale.
New ePub Release
From The Lighthouse, Volume Two
Volume Two of the three-volume anthology of articles written by Kenneth and Gloria Wapnick is now available here.
New Programs for June, July, and August 2015
The Foundation has added three new programs for the upcoming summer months. You can view the schedule here. The Academy classes will be followed by the weekly Thursday morning group for those students wishing to extend their studies.
__________________________________________________________________
My Interviews page has been revised to make it easier to find and access interviews with Ken Wapnick and others including Gloria Wapnick, and FACIM staff teachers.
Here's a NEW AUDIO of my recent radio chat with CA Brooks, 12Radio, on ACIM workbook lesson 79, "Let me recognize the problem so it can be solved" and lesson 80, "Let me recognize my problems have been solved."
Here's a link to my most recent chat with Bruce Rawles about ACIM workbook lesson 132, "I loose the world from all I thought it was," and a few of the themes emphasized in the March Academy based on Ken Wapnick's teachings and entitled "The World: 'A Maladaptive Solution to a Nonexistent Problem'"
HALF-HOUR, FORTY-FIVE MINUTE, OR HOUR-LONG ACIM MENTORING SESSIONS AVAILABLE: Although A Course in Miracles is clearly a self-study program and the one relationship we are truly cultivating is with our eternally sane and loving right mind, mentoring can help remind Course students having trouble applying its unique forgiveness in the classroom of their lives that the problem and the solution never lie in the difficult relationship, situation, behavior, health issue, etc., but in the decision-making mind. In every circumstance, without exception, we can choose to experience inner peace and kindness toward all, unaffected by the seemingly random strife of a world designed to prove otherwise. By choosing to look at our lives as a classroom in which we bring all our painful illusions to the inner teacher of forgiveness who knows only our shared innocence beyond all its deceptive disguises, we learn to identify and transcend the ego's resistance, hold others and even ourselves harmless, and gently allow our split mind to heal. Sessions are conducted via traditional phone or Skype (your choice). Please contact me to find out if mentoring is right for you before submitting a payment. (No one is ever turned away for lack of ability to pay!)
My good friend and fellow Course student and teacher Bruce Rawles, author of The Geometry Code, frequently invites me to chat with him on YouTube about the Course and Ken Wapnick's teachings. He continues to compile lots of great ACIM information well worth checking out at ACIMblog.com.
My good friend and gifted A Course in Miracles teacher and writer Bernard Groom has been posting beautifully written, heartfelt essays about living A Course in Miracles for years at ACIMvillage.com. I found his recent, kindly right-minded contemplations there on the death of our beloved teacher Ken Wapnick deeply comforting! Bernard lives and teaches in France with his dear wife Patricia. You'll find a wealth of information in French on his website including recorded talks available for purchase or free download.
My dear friend and wonderful teacher Lyn Corona continues to offer classes at the Rocky Mountain Miracle Center through her School of Reason for Course students and teachers. You can subscribe to her School of Reason website to receive information about upcoming classes.
My previous ACIM essay collections, Forgiveness Offers Everything I Want and Extraordinary Ordinary Forgiveness  are available on Amazon in both paperback and kindle versions. If you read and find any of these books helpful, I would greatly appreciate you posting a brief (a sentence or two is fine) review on Amazon.