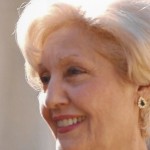 Husband and fellow Co-founder of the Foundation for A Course in Miracles in Temecula, California, Kenneth Wapnick, PhD, calls her the foundation's "inspiration and guiding light." In this first of a series of articles based on interviews with Gloria Wapnick she speaks candidly about her Catholic childhood, involvement in international affairs, living in Iran, finding A Course in Miracles, meeting and later marrying Ken, and creating the foundation. As always, I am indebted to the Wapnicks for faithfully and generously dedicating their lives to sharing the Course's transformative message of true forgiveness for all.
Growing up in the Bronx in the 1940s and 50s in an Italian, Catholic family, Gloria Wapnick always felt close to Mary, and often prayed to her for help in reconciling ambivalent feelings about a God that would sacrifice his Son to death on the cross. "It was frightening to go into church and see a crucifix all the time, and doing the Stations of the Cross was terrible. I didn't understand how God could do this. I remember thinking, what did Jesus do to deserve that, when I'm such a bad sinner?"
Like many Catholic girls, she often dreamed of being a nun—"a cloistered one, away from the world"—but couldn't keep gnawing doubts to herself. "I was always asking questions that the sisters and priests didn't like," she says. "Things like why they never encouraged anybody to read the Bible for themselves, and how did they know that was the word of God? And then, later, I had questions about things like transubstantiation. None of it made any sense. I learned very quickly, though, that you're not supposed to ask."
The summer after eighth grade, Gloria traveled to Italy with her mother and younger sister to visit relatives. While there, her mother suffered a heart attack and they were forced to stay while she recuperated. "I talked to lots of people—friends and family—about World War II, which is what triggered my later leaving the church. They told stories of the liberation forces and allied bombings, and the atrocities committed by colonial troops that were brought in by England, France, and others. I was really traumatized by it. I thought, if this is the best God can do, I don't want any part of it."
Returning to the states, she sought counsel from a priest about her experience. "He just didn't get it. We were in the rectory and he started off by saying that I should look out the window and see that blade of grass on the lawn, the splendor of God's creation and all that. And I just thought; that doesn't help me with what I'm feeling. And so at age fourteen I made the decision to leave the church and never went back, although I never left my connection to Mary. I searched all through high school for some kind of spirituality that made sense, but none of them really did."
Active in the peace movement, Gloria attended Hunter College where she majored in international affairs and became vice president of the student international relations club, in charge of finding speakers on various topics of interest. A speaking invitation to the son of Raul Roa, then Cuban ambassador to the UN, almost got her thrown out of school. "I got this unbelievable reaction from the college administration. It was really strange because he was just a student himself at the time—I think he might have been going to Harvard—but they treated it like some kind of international incident."
She met her first husband, an Iranian student attending another institution, through a friend at the UN, and arranged for him to speak to the club at an off-campus venue. "I didn't want to risk another incident. There were real problems in those days. For example, the president of our international relations club went to Cuba and, when he came back, the FBI pulled him aside and took him to a room at JFK airport where they confiscated all his film, notes, and tapes. They warned him if he ever spoke about his trip to Cuba, he would never get a job. He was very shaken, and never talked about it again."
Gloria married her Iranian husband during her last year of college. "I had planned on going into the Foreign Service but at that time they wouldn't allow married women, so that changed everything." She gave birth to her eldest son in April 1962, and moved to Iran with her husband and son in 1963. Her younger son was born there the following year. Marrying an Iranian automatically made her an Iranian citizen, which later complicated her returning to the states. She took a job teaching English to Iranian students at the Iran-American Institute and, later, taught social studies at the American School in Iran, where she again unwittingly ruffled feathers.
"I was teaching about different kinds of Parliamentarian governments, trying to offer students a comparative overview, and I included a description of Iran's government. These kids were from diplomatic, military, and U.S. aid families and they were really interested. I didn't know I had the son of the whole American Command in my class. He went home and told Daddy whatever he told him. The administration pulled my classes and I was told that if anything happened to me, they were not going to come to my aid. I had to take on other duties for two months before the administration gave me a class again and they threatened me that I was never to say anything about Iran again."
Although she got along well with her Iranian in-laws, her marriage eventually began to deteriorate. "He was a revolutionary and, although we were very compatible in our politics, we began to have personal issues. I wanted out of the marriage but because I had an Iranian passport and had come in as an Iranian citizen, I needed his permission to leave."
Permission her husband was unwilling to grant. "He told me if I wanted to go visit my parents, he would send them tickets to come to Iran, or I could go for a visit and take one child. But I wasn't going to leave one of my children. I went to the American Embassy and there was somebody in the political wing that had a friend at Pan Am who booked my passage and ensured that my name wasn't going to show up with my two children. It came down to a last minute thing. I had a friend who taught at the American School who helped me escape on that day. I was afraid because of all the politics around my teaching. At that time people just disappeared and you never heard of them again."
Gloria and her sons made it safely back to the Bronx where she started over as a single Mom with lots of support from her family. "Mom and Dad took care of the kids when I went to work. Although I'd been teaching for several years, I didn't have credentials to teach in public school, so I taught in a Catholic school for a year, and that was fun, let me tell you." She laughs. "I told the nuns, look, I'll take your history class if you take my religion. I went back to school at night and taught junior high and then high school—eventually serving as dean of admissions while continuing to teach two classes–in the New York public schools."
In 1977, a colleague in the high school social studies department kept raving about a psychic she had consulted, and encouraging Gloria to book an appointment. "I was taking courses at night and didn't have a lot of time. But she kept at me about it and I finally went. It turned out to be Pat Rodegast whose spirit guide was Emmanuel. The spirit guide told me I needed to go to Wainwright House, a New Age teachings center in Rye, NY, where I would find what I'd been looking for all my life. That got my attention, although I found it very challenging. I mean, I thought, how does he know what I'm looking for?"
Interest nonetheless piqued, Gloria registered for a weekend lecture series on A Course in Miracles presented by early student Bruce Gregory.  "I was very intrigued. I just knew that I really had to have these books (then in three parts), but I didn't have enough cash and didn't have my checkbook with me. I was going to leave my license with him as a show of good faith that I'd return with payment the next day, but he trusted me and I left with the books."
Back home, she stayed up all night reading. "I felt like Jesus was speaking directly to me. I could feel the strength of that presence and it just blew me away. I immediately and completely resonated with the text and the idea that God did not create this world. That was a Eureka moment for me, and I think the beginning of healing my relationship with God. I went back for the rest of the weekend, eventually read the text through, and thought I should start a group because everyone should have this message."
Gloria immediately grasped the Course's non-dualistic metaphysics. "I think I was an old Gnostic," she says. "The psychology I wasn't as hot on, and I was much more resistant to the workbook. I'd come up with all these excuses for why I couldn't do what the lessons said during my teaching day. Finally, about six months into it, I just said, Gloria, stop kidding yourself."
She formed a study group out of her home. "It was a very heterogeneous group. One of the things that got to me was people always tried to bring in the spiritual path they came from and make scrambled eggs with the Course. It used to drive me up the wall. People were coming from all different religious paths. I think in retrospect the Course was very threatening to the Catholics. To me it was very liberating, but they picked on silly things. We'd argue over the meaning of a sentence or a paragraph and everybody had an opinion. The Catholics were really challenging me around the issue of transubstantiation. They would take certain lines and passages and say this supports it, and I couldn't see it for the life of me."
Her frustrations about these recurring arguments led her to attend a conference at the Barbizon Plaza Hotel to hear Ken Wapnick speak in June 1977. "When he got up there I saw this golden-white aura surrounding him, and it really shook me. I had never seen auras before. It was shocking. Afterwards I tried to find him to ask him if he could help me clarify what to say to my group about transubstantiation, but he had disappeared."
A year later, Gloria once again attended one of Ken's talks held at the Barbizon Plaza, and approached him afterwards with her questions. "We were surrounded by people, and he said, that requires a lot of explanation. Call me, I'm in the book. But I didn't call. I work on a principle inside me where I get a green or a red light and I didn't get a green or red light about whether to call him, so I didn't do anything." Subsequently, at a conference on Religion, Mental Health, and Spirituality held in Westchester County where Ken was speaking, Gloria again approached him. "Again there was a swarm of people around us and he told me to call him. But I still didn't get a green light and I didn't call."
Finally, Gloria attended a weekend conference for A Course in Miracles facilitators where Ken was scheduled to speak on Sunday morning. "He came in and said, 'oh, there's my Catholic girlfriend.' At which point I wanted to rap him in the head," she recalls, laughing. "At lunch break I latched onto him and said I have to have these questions answered. We walked across the lawn to the dining hall. I sat down next to him and we had a long discussion about everything that was bothering me in the group. And then I talked to him about my fear of heights and snakes and he told me that wasn't the real problem. He said the problem is you're running away from Jesus. It was like a faucet opened inside me. I started crying and I cried all the way home; my girlfriend was ready to throw me out of the car. Something was unleashed. To this day, I can't really explain why I was crying."
Gloria then invited Ken to attend her group. "He talked about transubstantiation and everything they'd been arguing about. You could hear a pin drop. It was amazing. No one argued with him." Ken came to a few more classes and Gloria and Ken started dating. They married September 5, 1981. He adopted her sons, now in their teens, and began seeing patients in the transformed one-car garage of their home in Ardsley, New York, where Gloria and Ken both also held ACIM classes.
That fall, the idea of starting a foundation occurred to Gloria. "It kind of came out of nowhere—things happen to me like that. I knew he needed a vehicle of some kind for writing and teaching and the garage was just getting too cramped. This was before computers and we were trying to get his first book, The Glossary-Index for A Course in Miracles, out. I didn't know anything about the book-selling industry, it was quite a challenge. That's when I got the idea for starting a nonprofit foundation and told Kenneth. He didn't want to do it at first, but after a few days, he said OK."
Shortly thereafter, Ken and Gloria met California businessman and Course student Bob Draper, and his wife, Kathy. "They came to visit and the instant I met Bob I felt that I knew him. I later realized he was a brother of mine in a past life. I eventually told him when I got up the courage and he actually resonated with that, too. Bob told us to start looking for property for the foundation and he would help us with the money, because we didn't have any money."
Their search led them to acquire property in Crompond, New York, that included living space, two huge rooms in which to hold classes, and a finished basement for offices. "Kenneth began offering classes on particular topics like special relationships. We tried to accommodate people's schedules, but there was only one motel down in Peeksill and one other on a road going up to Crompond so overnight accommodations were limited. And we had very little parking. So, very quickly, we were already outgrowing the space. Bob Draper said he would help us again with the funding and we started looking for another property."
To be continued …
If you would like to receive these regular blog posts, please subscribe by providing your email as indicated in the upper, right corner of the www.foraysinforgiveness.com home page.
Although A Course in Miracles is clearly a self-study program and the one relationship we are truly cultivating is with our eternally clear and loving right mind, a mentor can help Course students apply its gentle forgiveness practice in their lives. In one-on-one phone sessions I help students identify and transcend the ego's resistance to healing our split mind through forgiveness. By joining with and listening to our loving inner teacher we learn to release the unconscious blocks we use to push unwavering, all-inclusive Love away and gradually awaken to our true, whole, eternally innocent  nature. For information on individual ACIM mentoring; please click on the mentoring tab on this site.
Check out the recent questions and answers to my Q & A page on this site and feel free to ask an ACIM-related question there.
My collection of personal essays, Extraordinary Ordinary Forgiveness, about practicing ACIM's extraordinary forgiveness in ordinary life is a finalist in the 2012 National Indie Excellence Awards http://indieexcellence.com/ and is available on Amazon http://www.amazon.com/Extraordinary-Ordinary-Forgiveness-Susan-Dugan/dp/1846945585.  If you read and like the book, please consider posting a review on Amazon.
If you enjoy these posts and like fiction, you might enjoy my collection of linked short stories, Safe Haven, http://www.amazon.com/Safe-Haven-Susan-Dugan/dp/0983742006 recently selected as a finalist for the Colorado Book Award in the literary fiction category: http://www.coloradohumanities.org/content/2012-colorado-book-award-finalists.