(There's never a better time than right now to draw a deep breath, lighten up with our inner Teacher, and learn to gently, compassionately smile at it all! 🙂 Here's an excerpt from my second A Course in Miracles essay collection: Forgiveness Offers Everything I Want. Hope it makes you smile!)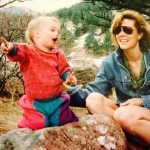 "I think definitely this one," I say, and hand him the photo.
He holds it up to his eyes a moment and pretends to study it, even though we both know he is just being polite–can't help it, really.
In the picture my daughter sits on the stairs of our former home, the 1890 Victorian short on space and long on charm my husband bought in graduate school and we finished renovating together. She clutches an unidentifiable white stuffed animal to her heart, tiny bare toes digging into the mauve carpet, a color I had inexplicably favored during my pregnancy and have loathed ever since. Her odd little outfit is velour and studded with pink roses. A matching headband anchors her blonde bangs. She stares at the camera with an expression we referred to even back then as "the look," a cross between a pout, a plea, and a rebuke for which she remains justly famous. 95-12-28, the digits in the corner read, and I wrack my memory for what might have precipitated this adorable gaze of recrimination in a newly turned three-year-old so soon after Christmas.
He waits patiently as I set it aside and pick up another–Easter this time—and nods as I hand it to him.
In this photo, my friends Peggy and Beth had flown in to join us bearing the world's most fetching, life-size solid chocolate duck from an exclusive confectionary shop in San Francisco. My daughter has obviously already partaken of an edible beak or wing and popped out of her chair Jack-in-the-Box-style, eyes shut, hair flying, and beaming with what could only be described as maniacal rapture. A little golden halo undulates around her head, a trick of our dining room lighting perhaps, who knows? I point it out to him.
He hands me a tissue. That's just the kind of guy he is.
I am sitting with my imaginary Jesus over tea—organic chamomile lavender to be precise because who couldn't use a little calming down these days?—engaging in a one-sided conversation involving the selection of childhood photos for the traditional ads parents of high school seniors are expected to purchase for their children's final yearbook. It has been a week of such activities in a year that at times feels like a kind of elongated final parenting exam. Needless to say I am, at times, a little anxious about my grades.
My daughter has but one of the arduous college applications left to finalize and submit. We attended her final club soccer game over the weekend, an event that brought tears to my eyes along with blurry visions of her and several teammates swarming across the field like a tiny beehive that first couple of years. This weekend, I will work our final silent auction benefit for the high school sports program where she will play her final Varsity season this spring. In hot pursuit of emancipation for such a long time, these recent harbingers of actual independence seem to have shifted her, too, into a temporary stage of largesse. She has been staying home more than usual, happily accompanying me as she once did on errands, and last night, my husband out of town, even climbed into bed with me for the night, a literal dream come true for our little dog sprawled out between us.
I take down the photo I keep on the bulletin board in my office of her taken at five years old, sitting on a bench in the garden outside the Rodin Museum in Paris looking oh so bohemian in black leggings and turtleneck, scribbling into the journal I bought her to chronicle our trip, and, you know, just in case she wanted to be a writer when she grew up. On that same holiday, I carried her on my shoulders in the Luxembourg Gardens and was asked for directions in French by a woman who knew how to tie scarves, if you know what I'm saying.
Je ne sais quoi, I had responded helplessly, nonetheless feeling that we had somehow finally arrived on the planet, no longer mistaken for ugly Americans.
He throws back his head and chuckles at that. His laugh is contagious. Buoyed by its lightness, I can feel myself rising along with my desk, our chairs, the computer, the pot of tea, the pile of photographs, and the blank page on which I am supposed to come up with a sentimental caption. Something that captures the specialness of the last 18 years I have spent attempting to nurture and guide this divine creature to this very threshold of striking off on her own that has left me dabbing at my eyes and counting the many ways in which I have failed to rise—no pun intended—to the occasion.
C'est la guerre, I say, and we laugh some more, giddy in our shared stance above the battleground of my illusions, clinking our teacups together in the theatre of my imagination, transported by healing mirth like Uncle Albert and the children in the Mary Poppins movie, deaf to the nanny's dissenting opinion.
As A Course in Miracles Chapter 23, IV, Above the Battleground, reminds me when I choose to be reminded:
Be lifted up, and from a higher place look down upon it.  From there will your perspective be quite different. Here in the midst of it, it does seem real.  Here you have chosen to be part of it. Here murder is your choice. Yet from above, the choice is miracles instead of murder. And the perspective coming from this choice shows you the battle is not real and easily escaped. (From paragraph 5)
I have worked with A Course in Miracles long enough not to be put off by this reference to murder in response to my ambivalence over my daughter's looming independence. Whether in touch with it or not, everyone shares the same unconscious belief that we have chosen to separate and thereby destroy our source, leaving us to fend for ourselves, seeming fugitives from eternal wholeness in a projected world of dualistic, competing forces. Every relationship in this so-called world thereby becomes a battleground in which we attempt to reenact our impossible defection from perfect wholeness, convinced our identity rides on the outcome of our war to prove ourselves guilty of hard-won autonomy at true love's expense. Is there any more perfect venue than the parent-child relationship in which to perpetuate from both seeming sides a story of misunderstanding, self-incrimination, disappointment, and ultimate abandonment?
And yet I am learning there is no difference in the regrets I may find myself clinging to as I prepare for this final exam before moving on to the continuing parenting education I hope will follow me to the grave and the annoyance I feel with a client, the knee-jerk condemnation the very image of certain politicians can arouse, or the tribal fear I can easily embrace in the guise of another terrorist plot or natural disaster.  A Course in Miracles has taught me that we are in the battleground–blindly obeying the ego's orders to attack and defend our projections through a smoky haze–or we are above it, having chosen the inner teacher that remembered to gently laugh at the tiny, mad idea of it all from the very beginning, patiently waiting out our inevitable return to sanity.
When I choose to turn away from the ego and join with Jesus (that symbol of our one, eternally lucid mind that followed us into this illusory experiment in fragmentation), I can view the pictures of my life with my daughter kindly and clearly without any need to step back into the frame. I can smile and even learn to laugh at the tearful idea that her inevitable launch into adulthood will somehow diminish me. As I rise above the battleground with Jesus in my mind, gently laughing my head off, I begin to share his vision. These negative and positive images dissolve as if developing backwards into the ether of illusion from which they emerged. And the loving caption for our life together flows easily and unimportantly through my hand and onto the page.
Foundation for A Course in Miracles Announcements
Programs through March 2017
Please view our latest Temecula Schedule page https://www.facim.org/temecula-schedule.aspx   to see the Seminars and Academy classes, including Live Streaming of the classes, currently scheduled through March 2017.
(You can register for upcoming live and streamed classes (AND GET THE NEW 2017 SCHEDULE) taught by the amazingly gifted Foundation for A Course in Miracles teaching staff; who continue to communicate Ken's teachings with such clarity and grace, here: https://www.facim.org/temecula-schedule.aspx. I really can't recommend these classes more highly! Rosemarie LoSasso and Jeff Seibert continue to gently encourage us to bring the darkness of all we've dreamt up to hurt us (whenever we're choosing to feel victimized and justified in victimizing others) to the light of the part of every mind that knows only our shared innocence and need to find our way home. Their classes offer us a safe, non-judgmental "space" above the battleground in which to allow the healing of our frightened minds. (And often laugh a lot, too! 🙂 NEW INTERVIEWS with Rosemarie LoSasso and Jeff Seibert coming to my www.foraysinforgiveness.com site in 2017!)
Two NEW Audio Releases
http://bookstore.facim.org/p-443-dream-stuff.aspx
http://bookstore.facim.org/p-448-the-holy-relationship-a-stream-of-stars.aspx
MP3-CDs To Be Discontinued
The Foundation is beginning the process of discontinuing production of audio titles in MP3 CD format. The second grouping of MP3 CD titles, which is available through December 31, 2016 only, can be viewed here. These titles are also available this month at a 40% discount.
New Book Available Early 2017
A Symphony of Love is an edited compilation of selected writings of Dr. Kenneth Wapnick, including autobiographies, poetry, short stories, and articles.
Super Inventory Sale
We are continuing to clear out the warehouse of all printed books as we make the transition to electronic books. After the current supply of books is sold, the books will not be reprinted, and will be available only in digital download format.
You may view all of the books currently on sale here. Please note that some orders may take up to two weeks to ship after the order is received.
__________________________________________________________________________
MY LATEST BOOK, FORGIVENESS: THE KEY TO HAPPINESS, http://www.amazon.com/Forgiveness-Happiness-Susan-A-Dugan/dp/0983742022, along with my second book in the forgiveness essay collection series, FORGIVENESS OFFERS EVERYTHING I WANT: http://www.amazon.com/Forgiveness-Offers-Everything-I-Want/dp/0983742014/ref=pd_bxgy_14_img_2?ie=UTF8&refRID=07RKZW8SHE2RNC209A2D  are DISCOUNTED on Amazon for the holidays!
Schedule individual MENTORING sessions with Susan Dugan here: https://www.foraysinforgiveness.com/personal-coaching  Although A Course in Miracles is clearly a self-study program and the one relationship we are truly cultivating is with our eternally sane and loving right mind, mentoring can help remind Course students having trouble applying its unique forgiveness in the classroom of their lives that the problem and the solution never lie in the difficult relationship, situation, behavior, health issue, etc., but in the decision-making mind. In every circumstance, without exception, we can choose to experience inner peace and kindness toward all, unaffected by the seemingly random strife of a world designed to prove otherwise. By choosing to look at our lives as a classroom in which we bring all our painful illusions to the inner teacher of forgiveness who knows only our shared innocence beyond all its deceptive disguises, we learn to identify and transcend the ego's resistance, hold others and even ourselves harmless, and gently allow our split mind to heal. 
Susan's mentoring sessions provide valuable support in our forgiveness practice from a Course student and teacher deeply committed to awakening through learning and living true forgiveness. While keenly aware of our resistance to Jesus' loving message from first-hand experience, she remains faithful to opening her heart to the Course's universal answer for all frightened hearts and to sharing her ongoing learning and growing trust with kindred faithful, but sometimes frightened and confused, fellow students.
Sessions are conducted via traditional phone or Skype (your choice). Please contact me to find out if mentoring is right for you before submitting a payment. (No one is ever turned away for lack of ability to pay!)
Here's a RECENT AUDIO I did with CA Brooks, 12Radio, in which we talk about the importance of catching our unkind thoughts and judgments and looking at them with the part of our mind that sees no differences and makes no comparisons … even while watching the news! http://www.12radio.com/archive.cfm?archive=584A85D9-26B9-4187-86B672216F9D08E7 …
A RECENT VIDEO I did with Bruce Rawles, discussing Section 16 of The Manual for Teachers: "How Should the Teacher of God Spend His Day." https://www.youtube.com/watch?v=JgHjOcxzrwg&feature=youtu.be …
And a RECENT AUDIO I did with CA Brooks, 12 Radio, on Changing the Purpose of the Body from Prison to Classroom: http://www.12radio.com/archive.cfm?archive=C936F436-26B9-4187-862BC523BC16D778, and another on what it means to go "above the battleground" (ACIM Text 23, Section IV) http://www.12radio.com/archive.cfm?archive=13D9C907-26B9-4187-86F1370A394E8755
In this VIDEO, Bruce Rawles and I discuss A Course in Miracles lesson 190: "I choose the joy of God instead of pain." https://www.youtube.com/watch?v=WPqUpNmAmG0
CA Brooks, 12Radio and I talk about ACIM workbook lesson 101: "God's will for me is perfect happiness" and 102: "I share God's will for happiness for me." http://www.12radio.com/archive.cfm?archive=16BFF184-26B9-4187-86DD07743FBB7355  You'd think we'd like to hear that God's will for us is perfect happiness, but we can't possibly believe that and also believe we attacked God and threw his love away.  Following our inner Teacher's path of true forgiveness begins to dissolve the guilt in our mind, teaching us that it was just silly to believe we could oppose God's will and create a separate one. Allowing us to gradually accept that we deserve the happiness we share within God's presence and could never really destroy.
The Denver-based School for A Course in Miracles (formerly the School of Reason), an A Course-in-Miracles teaching organization, has a beautiful new website: http://www.schoolforacourseinmiracles.org/, with information on great new and ongoing classes based on Ken Wapnick's teachings.
In the San Francisco Bay Area, the Center for A Course in Miracles http://www.centerforacourseinmiracles.org/index.html, is an educational Center whose focus is to teach what A Course in Miracles says, address common misunderstandings, and help students develop a relationship with their internal Teacher, inspired and guided by the teachings of the late Dr. Kenneth Wapnick.
The Interviews page on my forays website been revised to make it easier to find and access interviews with Ken Wapnick and others including Gloria Wapnick, and FACIM staff teachers.
In this video Bruce Rawles and I discuss themes from my most recent book, Forgiveness: The Key to Happiness: https://www.youtube.com/watch?v=3vEbI3jH8Sk 
My good friend and fellow Course student, teacher, and author Bruce Rawles frequently invites me to chat with him on YouTube about the Course and Ken Wapnick's teachings. He continues to compile lots of great ACIM information well worth checking out at ACIMblog.com.
My good friend and gifted A Course in Miracles teacher and writer Bernard Groom has been posting beautifully written, heartfelt essays about living A Course in Miracles for years at ACIMvillage.com. Bernard lives and teaches in France with his dear wife Patricia. You'll find a wealth of information in French on his website including recorded talks available for purchase or free download.