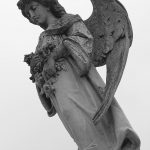 As the Southwest 737 climbed through the dull clouds and ragged hills of San Diego the Captain explained Air Traffic Control had advised him that the skies throughout our flight path in California today were "out of sorts," much like the reluctant flyer I still think I am. Our ascent would prove bumpier than usual; and while he would try to find smoother air, he couldn't make any promises.
Of course, he couldn't, I silently muttered, gazing out the window with as much neutrality as my resistant-to-love decision-making mind (apparently floating around somewhere far, far over a reputed rainbow and the confines of time and space) could muster. On what I imagined might sadly prove to be my last flight to this city I'd been frequenting for some years, at least long enough to nab a rental car and drive an hour northeast to The Foundation for A Course in Miracles (www.facim.org) to attend classes. The good news? The tailwinds in our favor would deposit us in Denver in well under the allotted two hours, the pilot prophesized. You know; one way or another.
Outside the window my imaginary inner professor was literally waiting in the wings with his gravity-defying ways and "gotcha" smile, steady hand extended, mumbling something about gratitude for our classrooms, no doubt, but I was in no mood for levity toward my clearly precarious predicament. After all, it had been yet another week in the dream chock full of breaking news stories involving topics such as mass shootings, men in powerful positions from all seeming walks of life abusing their authority by harassing and in some cases assaulting women and children in various subordinate positions over many decades, along with continuing allegations of probable White House ties to Russian interference in U.S. elections.
Hell, I had gleaned all of this without even watching televised news during my three-day stay in Temecula to attend the Foundation's November seminar merely by checking the headline feed on my not-as-smart-as-it-likes-to-think-it-is phone. Preferring to bury my sorrows in endless streamed reruns of the Gilmore Girls back in my hotel room punctuated by long, restless walks rather than focusing on applying what I was learning to my reactions to breaking news in classrooms far and near, macro and micro, public and, well–way personal.
Now I robotically answered yes as the flight attendant asked those of us in the exit rows if we understood and were capable of assuming our duties should the flight run amuck in the worst possible way before settling into my ergonomically diabolical, forward-leaning seat. Feeling once more cast adrift in a strange dark land by the ego's unrelenting story presented in countless guises of unforeseen circumstances beyond my control. Attempting to channel my fearful-flyer anxiety into my novel, as oblivious as possible to the ongoing pain in my neck and shoulders and the young, male flight attendant periodically perfecting his standup routine on the loud speaker to weak enthusiasm from fellow harried passengers no doubt with another kind of turbulence on their minds: preparing (as I soon would be) for the impending Thanksgiving holiday next week.
Despite my book's compelling narrative, its author's evident literary skill, it failed to capture my attention long enough to stave off the sense of grief I'd unexpectedly encountered during my visit that had not yet abated. Arising again and again as I found myself unexpectedly confronting the bodily death of our beloved teacher Ken Wapnick nearly four years ago, anew. A palpable sense of his presence beside me as I marched the sidewalks of the commercial strips surrounding my hotel triggering the simultaneously magical, wishful, and terrifying thought that if I spun my head around quickly enough in his apparent direction, I might actually glimpse his image again.
Although the captain announced that we had reached our cruising altitude, he didn't bother to explain his failure to turn off the seatbelt sign as the rocky ride continued. The flight attendants made a valiant effort to provide beverages for 20 minutes or so before the captain ordered them to conclude and return to their seats for the duration of the flight. Twenty minutes later he warned Air Traffic Control had advised that our long descent into Denver would prove much bumpier than usual.
Needless to say I found myself about out of patience with the entire dream at this point, let alone the inner professor of sanity I'd noticed earlier dancing on the wings outside the cabin window, who had clearly vanished. "I'm doing the best I can," I mentally whined at him, nonetheless. "But as I may have mentioned earlier, I'm just not getting anywhere with this Course. I still clearly think I'm a body, OK, a body with a Thanksgiving dinner for twelve to produce in just a few days. I know we're not supposed to ask you for help in imaginary form but you helped Helen [Course Scribe Helen Schucman] with shopping, for Christ sake. Is it really too much to ask to experience a smooth, safe descent and landing? I'm too tired for this curriculum right now."
As if in darkly humorous response, the enormous plane jolted vertically, horizontally, every which way. I rolled my eyes at Jesus, as if he could see me. "Please!" I silently pleaded. "I'm not there yet, OK? Help!" I glanced at the woman beside me, prompted by an incoming memory of Ken Wapnick's advice to "make it about them," meaning notice how you're always putting yourself first, obsessed with your own desires and needs, largely unconscious of others. Suddenly aware I'd been oblivious to the feelings of my fellow passengers, which likely mirrored my own fear at least to some degree, to the welfare of everyone navigating these literally, figuratively, constantly treacherous skies. Everyone traveling this so-called world feeling lost and alone, buffeted by dangerous forces beyond their control.
The plane lurched, delivering a sudden drop in altitude worthy of the finest of roller coasters. I turned toward that woman seated to my right whom I'd barely noticed earlier, engaged as she seemed to have been in a movie on her tablet. "Yikes!" I said, smiling, impersonating a much braver dream figure as I am often wont to.  Of course my hands clenched on the arms of the seat likely spoke otherwise.
"I used to live in England years ago and had to fly all the time, often in small planes," she said. "I got used to some really bad turbulence. I don't know what your belief system is but there's a psalm I found then I've relied on ever since." She went on to quote psalm 91:11: "For He will give His angels charge concerning you, To guard you in all your ways." Pointing out that it was like dialing 911—ha, ha!
Seriously, I thought? I looked over at the window to see if Jesus was winking at me or something but could make out only the thick fog of the clouds enshrining our path. The plane continued to rock and roll more violently than I'd ever experienced coming into Denver (which is saying quite a lot) while the wannabe comic flight attendant did his best over the speaker to distract us from thoughts of our imminent demise. He probably would never make it on the Comedy Channel, but he would definitely make it back to Heaven, just like every other one of us passengers, saint and sinner alike.
I thanked the woman beside me for her kindness and struggled to converse as the plane pitched and shook. She told me about the grown children she was meeting in Colorado and a cross-country bike trip she'd taken with her husband last summer to raise money for a nonprofit they supported that helped disabled cyclists. Conscious and grateful, even as fear for our physical bodies ebbed and flowed with the plane's motion, that my prayer had been answered by her calm, attentive presence. Aware that while our belief systems appeared wildly different in form, the root cause of all fear: the belief in separation, and its solution: the recognition of our shared need to find out way home to our safe, eternally loving, innocent identity within our Creator by making it about each other, remain identical. Realizing, as the wheels of our aircraft touched down and fellow passengers uttered an audible, collective sigh of relief that Jesus never fails to answer all sincere students, one way or another.
"We trust our ways to Him and say "Amen." In peace we will continue in His way, and trust all things to Him. In confidence we wait His answers, as we ask His Will in everything we do. He loves God's Son as we would love him. And He teaches us how to behold him through His eyes, and love him as He does. You do not walk alone. God's angels hover near and all about. His Love surrounds you, and of this be sure; that I will never leave you comfortless." (A Course in Miracles Workbook Epilogue, paragraph 6)
Foundation for A Course in Miracles Announcements
Programs through January 2018
Please view our latest Temecula Schedule page http://www.facim.org/temecula-schedule.aspx   to see the facim classes, including Live Streaming of the classes, scheduled through January 2017.
You can register for upcoming live and streamed classes taught by the amazingly gifted Foundation for A Course in Miracles teaching staff; who continue to communicate Ken's work with such clarity and grace, here: https://www.facim.org/temecula-schedule.aspx. I really can't recommend these classes more highly! Rosemarie LoSasso and Jeff Seibert continue to gently encourage us to bring the darkness of all we've dreamt up to hurt us (whenever we're choosing to feel victimized and justified in victimizing others) to the light of the part of every mind that knows only our shared innocence and need to find our way home. Their classes offer us a safe, non-judgmental "space" above the battleground in which to allow the healing of our frightened minds. (And often laugh a lot, too! 🙂 Check out my most recent interviews with facim teachers Rosemarie LoSasso https://www.foraysinforgiveness.com/talking-with-rosemarie-losasso-spring-2017/ and Jeff Seibert https://www.foraysinforgiveness.com/talking-with-jeffrey-seibert-summer-2017/.)
New Audio Release
The Foundation is happy to announce the publication of a previously unreleased audio title by Dr. Kenneth Wapnick. This four CD set recorded in 2006 is entitled The Logic of A Course in Miracles: The Ego and The Holy Spirit, and is also available as an MP3 Download.
Super Inventory Sale Continue ONLY through December 31, 2017
We are continuing to clear out the warehouse of all printed books. Make sure you have all the titles you want before the sale ends.
You may view all of the English and Spanish books currently on sale here. Please note that some orders may take up to two weeks to ship after the order is received.
The Interviews page on my forays website has been revised to make it easier to find and access interviews with Ken Wapnick and others including Gloria Wapnick, and FACIM staff teachers. These interviews provide a wealth of practical information about learning to live a truly forgiving life, as well as some history of the Foundation for A Course in Miracles.
____________________
Schedule individual MENTORING sessions with Susan Dugan here:  Although A Course in Miracles is clearly a self-study program and the one relationship we are truly cultivating is with our eternally sane and loving right mind, mentoring can help remind Course students having trouble applying its unique forgiveness in the classroom of their lives that the problem and the solution never lie in the difficult relationship, situation, behavior, health issue, etc., but in the decision-making mind. In every circumstance, without exception, we can choose to experience inner peace and kindness toward all, unaffected by the seemingly random strife of a world designed to prove otherwise. By choosing to look at our lives as a classroom in which we bring all our painful illusions to the inner teacher of forgiveness who knows only our shared innocence beyond all its deceptive disguises, we learn to identify and transcend the ego's resistance, hold others and even ourselves harmless, and gently allow our split mind to heal. 
Susan's mentoring sessions provide valuable support in our forgiveness practice from a Course student and teacher deeply committed to awakening through learning and living true forgiveness. While keenly aware of our resistance to Jesus' loving message from first-hand experience, she remains faithful to opening her heart to the Course's universal answer for all frightened hearts and to sharing her ongoing learning and growing trust with kindred faithful, but sometimes frightened and confused, fellow students. Sessions are conducted via traditional phone or Skype (your choice). Please contact me to find out if mentoring is right for you before submitting a payment. (No one is ever turned away for lack of ability to pay!)
In this NEW VIDEO, Bruce Rawles and I discuss what A Course in Miracles means by "the quiet center" of the mind https://www.youtube.com/watch?v=unQXd3F4S9U&feature=youtu.be and how to get there.
In this RECENT VIDEO, Bruce Rawles and I discuss workbook lesson 194: "I place the future in the hands of God." https://www.foraysinforgiveness.com/videos/
In this NEW VIDEO, my friend and fellow Course student Danielle Scruton discuss A Course in Miracles workbook lesson 131: "No one can fail who seeks to reach the truth." https://www.youtube.com/watch?v=Muu_Cm_jbdQ
In this RECENT VIDEO, my friend and fellow Course student Danielle Scruton and I discuss practicing forgiveness within the classroom of the parent-child relationship in the context of the Course quote "And God Thinks Otherwise." https://www.youtube.com/watch?v=89Hd-EvUDsg&feature=youtu.be
In this RECENT VIDEO, my friend and fellow Course student Danielle Scruton and I discuss how to weather the ego's "backlash."  https://youtu.be/7cIV4kSUajU.
 In this RECENT VIDEO, my friend and fellow Course student Danielle Scruton and I discuss changing the purpose of romantic partnerships/marriage from specialness bargains to classrooms for learning to accept the atonement for ourselves https://www.youtube.com/watch?v=3n8pn760h0U&feature=em-upload_owner.
In this RECENT VIDEO, friend and fellow Course student and teacher Bruce Rawles and I discuss what it means to "accept the atonement for myself," as talked about in A Course in Miracles Chapter 2 and workbook lesson 139. https://www.foraysinforgiveness.com/videos/
In this RECENT VIDEO, Bruce Rawles and I talk about the challenges of trying to practice A Course in Miracles workbook lesson 330: "I will not hurt myself again today." https://www.youtube.com/watch?v=m4RJosel0zA&feature=youtu.be
In this NEW AUDIO,  CA Brooks, 12Radio, and I talk about acim workbook lesson 193: "All things are lessons God would have me learn." http://www.12radio.com/archive.cfm?archive=286F2689-26B9-4187-864EFF004ED83566
In this RECENT AUDIO CA Brooks, 12Radio, and I talk about how to connect with our inner Teacher/right mind (which can seem quite elusive at times!): http://www.12radio.com/archive.cfm?archive=7271A032-26B9-4187-863739C3EB9013D0
In this RECENT AUDIO CA Brooks, 12Radio, and I discuss A Course in Miracles workbook lesson 41: "God goes with me wherever I go," and why this is a good thing! 🙂 http://www.12radio.com/archive.cfm?archive=D6390D92-26B9-4187-865888BFB8D98D75
In this RECENT AUDIO, CA Brooks, 12Radio, and I talk about A Course in Miracles workbook lesson 186: "Salvation of the world depends on me." (And thank God it's not the "me" we think it is! :)) http://www.12radio.com/archive.cfm?archive=DE52D9FE-26B9-4187-860F309BBB8F9B42
MY LATEST BOOK, FORGIVENESS: THE KEY TO HAPPINESS, http://www.amazon.com/Forgiveness-Happiness-Susan-A-Dugan/dp/0983742022, along with my second book in the forgiveness essay collection series, FORGIVENESS OFFERS EVERYTHING I WANT: http://www.amazon.com/Forgiveness-Offers-Everything-I-Want/dp/0983742014/ref=pd_bxgy_14_img_2?ie=UTF8&refRID=07RKZW8SHE2RNC209A2D  are currently DISCOUNTED on Amazon.
OTHER RECENT AUDIOS: 
Here's a recording I did with CA Brooks, 12Radio, in which we talk about the importance of catching our unkind thoughts and judgments and looking at them with the part of our mind that sees no differences and makes no comparisons … even while watching the news! http://www.12radio.com/archive.cfm?archive=584A85D9-26B9-4187-86B672216F9D08E7 …
A recording on Changing the Purpose of the Body from Prison to Classroom: http://www.12radio.com/archive.cfm?archive=C936F436-26B9-4187-862BC523BC16D778, and another on what it means to go "above the battleground" (ACIM Text 23, Section IV) http://www.12radio.com/archive.cfm?archive=13D9C907-26B9-4187-86F1370A394E8755
And a recording in which we talk about ACIM workbook lesson 101: "God's will for me is perfect happiness" and 102: "I share God's will for happiness for me." http://www.12radio.com/archive.cfm?archive=16BFF184-26B9-4187-86DD07743FBB7355  You'd think we'd like to hear that God's will for us is perfect happiness, but we can't possibly believe that and also believe we attacked God and threw his love away.  Following our inner Teacher's path of true forgiveness begins to dissolve the guilt in our mind, teaching us that it was just silly to believe we could oppose God's will and create a separate one. Allowing us to gradually accept that we deserve the happiness we share within God's presence and could never really destroy.
OTHER RECENT VIDEOS:
Here's a video I did with Bruce Rawles on sharing perception with the Holy Spirit: https://www.youtube.com/watch?v=S45pmt7ntQ4
Here's a talk I did with Bruce Rawles on Section 16 of The Manual for Teachers: "How Should the Teacher of God Spend His Day." https://www.youtube.com/watch?v=JgHjOcxzrwg&feature=youtu.be …
In this VIDEO, Bruce Rawles and I discuss A Course in Miracles lesson 190: "I choose the joy of God instead of pain." https://www.youtube.com/watch?v=WPqUpNmAmG0
____________________
The Denver-based School for A Course in Miracles (formerly the School of Reason), an A Course-in-Miracles http://www.schoolforacourseinmiracles.org/ offers great new and ongoing classes based on Ken Wapnick's teachings.
In the San Francisco Bay Area, the Center for A Course in Miracles http://www.centerforacourseinmiracles.org/index.html, is an educational Center whose focus is to teach what A Course in Miracles says, address common misunderstandings, and help students develop a relationship with their internal Teacher, inspired and guided by the teachings of the late Dr. Kenneth Wapnick.
In this video Bruce Rawles and I discuss themes from my most recent book, Forgiveness: The Key to Happiness: https://www.youtube.com/watch?v=3vEbI3jH8Sk 
My good friend and fellow Course student, teacher, and author Bruce Rawles frequently invites me to chat with him on YouTube about the Course and Ken Wapnick's teachings. He continues to compile lots of great ACIM information well worth checking out at ACIMblog.com.
My good friend and gifted A Course in Miracles teacher and writer Bernard Groom has been posting beautifully written, heartfelt essays about living A Course in Miracles for years at ACIMvillage.com. Bernard lives and teaches in France with his dear wife Patricia. You'll find a wealth of information in French on his website including recorded talks available for purchase or free download.