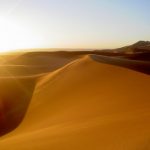 I sat at my desk on yet another bright Monday morning in this winter of my deep discontent, that haunting phrase from A Course in Miracles workbook lesson 91: "What you think you are is a belief to be undone," (paragraph 6, line 7) once more echoing throughout the empty corridors of my head. A mocking refrain in the spiritual ego's song of suffering Susan's eternally sanctioned soul.
It had been a couple months that honestly seemed more like dog years since I'd been able to string words together to reflect my recent experience on this rocky journey home. Those symbols "twice removed from reality" (Manual, paragraph 1, lines 9 and 10) that nonetheless in the past had revealed clues to the whereabouts of our trusty inner teacher. Ensconced in that unmarked office of his in a university above the battleground far, far away that—trust me–you will never locate on Google Earth! Months of enduring the worst writer's block I could recall that seemed to rock the very foundation upon which I had constructed the story of Susan. A confusing fable that now seemed perilously close to toppling altogether into meaningless rubble.
I mean; not to mix metaphors, but, really, this was the last freaking straw! After all, all the roles I had played in the past in this sleeper of an Indie dramedy of my so-called life–child, parent, sister, wife; healthy, youthful, striving individual; dedicated A Course in Miracles student and teacher–had been thrown into sharp relief in the last few years in often graphic details. Within scenes even a seemingly separated personal self as skilled as the façade I had constructed in avoiding the obvious could no longer ignore. I mean, if writer went, too … But I digress as I am wont to do.
Of course, there had been plenty of cause for distraction in the last couple months, you have to admit. The at best dubious year had commenced on the personal front following my daughter's Christmas visit with the renewed, painful awareness of her continuing absence. An undeniable void I'd naively believed I'd come to terms with. Not surprisingly, I then quickly succumbed to the severe respiratory flu my husband had already contracted but a week into the New Year. Only in my case, the infection also inexplicably attacked previously damaged nerves on my torso unremittingly for 72 excruciating hours before the formulas my Chinese Medicine doctor prescribed to treat the underlying virus finally kicked in.
I recovered from the rest of it 10 days later, just in time (after recoiling from the first seeming assaults on "truth, justice and the American way," as Superman used to put it) to attend the Women's March in Denver on a magical morning that began with rising early to score a cup of quality, dark-roast Joe and a blueberry bran muffin at one of my favorite coffee shops and heading downtown with friends as the sun rose pink over the white-capped mountains, as if in solidarity with our gender. A bald eagle, that revered emblem of democracy, circled overhead as we waited in Civic Center Park. (I mean, you can't make this stuff up. Well …)
Across the street from the mile-high State Capitol building and the Denver Post we stood and waited, along with a record crowd later estimated between 100,000-200,000 women, men, and children of all races and sexual and gender identification. Chanting slogans such as "Love, not hate; makes America great!" as we peacefully began swarming along between the high rises. Even the cops donned pink-knit caps and posed for photographs with protestors while workers in orange vests in buildings under construction above waved signs with hand-colored hearts and cheered us on. And I flashed back wistfully to ERA marches when, fresh out of college, I lived and worked in Washington, DC, a whole seeming lifetime of improved-world possibilities still plausibly looming.
Although the elation and sense of renewed connection I experienced during and after the parade at least triggered the inner acknowledgment that just as "I am never upset for the reason I think" (A Course in Miracles workbook lesson 5) I am likewise never elated for the reason I think. I nonetheless couldn't seem to take the next step in the Course's unique forgiveness of my vigilant belief in the differences that seem to have so sharply divided the American electorate: "I could see peace instead of this." (Workbook lesson 34)
Of course, I had come too far not to know all too well that I could not take that step toward peace and awareness of our true unity beyond these all-too convincing disguises we all wear alone, only with help from my inner teacher. You know, the one who seemed to have vanished again leaving no forwarding address. Leaving puny, little me once more adrift in a dream that–following that pleasant, little interlude I'd so enjoyed with like-minded-seeming members of "my" tribe—turned abruptly back to harrowing as the new administration continued to announce executive appointments and orders that appeared to threaten the foundations of the national body with which Susan also so strongly identified every half hour or so on the newsfeed of my not-always-as-smart-as-it-claimed phone. And found me actually having to pull over while literally crying over an NPR story about the devastating effects of the recent executive ban on immigrant families.
And yet, despite the magnetic pull of my alternating outrage and grief, the exquisite draw of the righteousness of my opinion versus the treachery and inhumanity I perceived in the "other side's," I knew I must be wrong. After all, I knew a few people who had certainly voted for that heinous "other side," earnestly struggling to be largely good, just like me. And so, even as I sought the comic relief I craved in SNL and other satirical outlets, I knew I had lost my real and only purpose of learning a kind forgiveness not of this world. The simple process taught by the loving teacher within us all that would help me remember our enduring, innocent, undifferentiated union without literal or figurative borders or walls, and our common need to rediscover it. Within which, as that recently departed most soulful of poets put it "Every heart, every heart to love must come, but like a refuge." (Leonard Cohen, Anthem)
Despite nonstop breaking mainstream news constantly assaulted and disparaged by that "other side" I took so personally that seemed directed at a nation I now recognized I ironically revered and identified with much more personally than I had ever realized, I couldn't shake the nagging guilt and self-hatred that had brought me to the Course in the first place. That all-too-familiar sense that I was an impostor of a nice person, despite the face of innocence I showed the world, rotten at the core and in constant danger of exposure.
"My self is a belief to be undone," I heard again, now, sitting at my desk, on yet another Monday morning–Presidents Day, actually; ha, ha!—and found myself transported to the hallway outside my imaginary inner professors' office. I stood at the threshold a moment watching him within, bent over a stack of papers, bathed in a golden light seemingly streaming through those beveled windows, blurring all forms including the familiar chair waiting for me across from him into a beckoning Impressionist swirl. Aware I could step right into that luminous, priceless painting, but seemingly paralyzed to do so, nonetheless. Still not remotely sure I belonged in the light.
Instead I sat down in the darkened hallway outside his door, heart aching again with a grief far too vast to describe or name, and leaned back against the wall. And I thought about how we all people our dreams with villains and saviors who appear wildly different and exhibit wildly different degrees of evilness, goodness, and psychosis. How that is part of the decision-maker in collusion with the ego's plan. Yet, all of them serve the same purpose: to prove I exist but it's not my fault, it's ___________'s.  Or that __________ can save me from the loneliness and punishment I secretly know I have coming for believing I could really separate from our undifferentiated, all-inclusively loving Self and Source.
And I thought about how everyone here, the ones I call "mine" and the ones I call "theirs," fills in those blanks with different dream figures, yet for the same reason. The problem has never existed in a dream, but only in the shared decision-making mind's choice I continue to make right now that I really did triumph over God, deserve retribution, and must find a scapegoat to prove my relative innocence and a savior to substitute for the Love I think I destroyed to ease the pain.
Every unconsciously terrified fragment of the decision-making mind that believes it's here, besieged by self-defined anti-heroes or in need of rescuing by self-defined superheroes, has bought into the ego thought system, literally paying blood money to maintain its mistaken belief in sovereignty and separate interests. But at any given moment shares the same power to simply question the reality of its interpretation. Not even believe, simply question. Thereby inviting our shared right mind to heal all thoughts that ultimately divide and hurt, no matter how tantalizing the ego's initial promises may sound.
Despite incredibly convincing (and lately shockingly extreme) evidence to the contrary, the problem is never what or who's in the dream. The problem is that I'm dreaming and still don't want to wake up, am not yet ready to step through that door and into the enduring, all-inclusive light of my inner professor's office; which will ultimately allow the undoing of the fake belief in this alternative fact of a self in need of constant defense. Because if I wanted to wake up, I'd have no trouble doing what my inner teacher is always asking us to: simply question the cause of every reaction I have; negative or positive. Entertain the possibility that I am wrong about it, but maybe willing to learn and experience peace instead of this in all circumstances.
I sighed, the sigh for which I am still justly famous in certain circles, surprised to notice in my peripheral vision, my teacher on the floor beside me.
"I know what you're thinking," I said.
"You always do … eventually."
"It's fine to take action within the dream based on what I believe is the kindest thing to address the problem within the dream as I see it. But I must remember to at least question the belief that I am right about anything when I've forgotten I am the dreamer of the dream, rather than its hero. I must remember to question all of the unkind, separating thoughts and judgments about others that arise as I do so with you if I'm ever to forgive myself and rediscover my guiltlessness." I sighed that sigh again. "OK, our guiltlessness."
He nodded.
"And until I'm ready to let you take the next step, you'll wait in hell with me a while longer?"
His brows shot up the way they do.
"Well, not in hell exactly, more like 'in it, but not of it,' I suppose. Until I learn it can't truly hurt me, I mean, or anybody else, for that matter. Until I learn the only real hell is a hellish belief to be undone."
"Sure," he said, smiling. "Why the hell not."
And so–bless his always-instantly-available-to-every-single-seeming-one-of-us heart–he did.
"If you are not a body, what are you? You need to be aware of what the Holy Spirit uses to replace the image of a body in your mind. You need to feel something to put your faith in, as you lift it from the body. You need a real experience of something else, something more solid and more sure, more worthy of your faith, and really there." (A Course in Miracles workbook lesson 91, paragraph 7)
Ken Wapnick on How Jesus Uses the Body and the World to Motivate Our Learning (Excerpt from ACIM Workshop) https://www.youtube.com/watch?v=6yke3uUd_58 (from facim, October 7, 2013)
Leonard Cohen, Anthem: https://www.youtube.com/watch?v=48AJBXs5dNc
Foundation for A Course in Miracles Announcements
Latest Book
A Symphony of Love is an compilation of selected writings of Dr. Kenneth Wapnick, including autobiographies, poetry, short stories, and articles.
Programs through March 2017
Please view our latest Temecula Schedule page https://www.facim.org/temecula-schedule.aspx   to see the Seminars and Academy classes, including Live Streaming of the classes, currently scheduled through March 2017.
(You can register for upcoming live and streamed classes taught by the amazingly gifted Foundation for A Course in Miracles teaching staff; who continue to communicate Ken's work with such clarity and grace, here: https://www.facim.org/temecula-schedule.aspx. I really can't recommend these classes more highly! Rosemarie LoSasso and Jeff Seibert continue to gently encourage us to bring the darkness of all we've dreamt up to hurt us (whenever we're choosing to feel victimized and justified in victimizing others) to the light of the part of every mind that knows only our shared innocence and need to find our way home. Their classes offer us a safe, non-judgmental "space" above the battleground in which to allow the healing of our frightened minds. (And often laugh a lot, too! 🙂 NEW INTERVIEWS with Rosemarie LoSasso and Jeff Seibert coming to my www.foraysinforgiveness.com site in 2017!)
Two NEW Audio Releases
http://bookstore.facim.org/p-443-dream-stuff.aspx
http://bookstore.facim.org/p-448-the-holy-relationship-a-stream-of-stars.aspx
MP3-CDs To Be Discontinued
The Foundation continues phasing out its MP3 CDs. The fourth grouping of MP3 CD titles to be discontinued can be viewed here. These titles are on sale at a 40% discount, and are available through February 28, 2017 only. Please note that all orders containing MP3-CDS will be shipped at the end of February.
Super Inventory Sale
We are continuing to clear out the warehouse of all printed books as we make the transition to electronic books. After the current supply of books is sold, the books will not be reprinted, and will be available only in digital download format.
You may view all of the books currently on sale here. Please note that some orders may take up to two weeks to ship after the order is received.
­­­____________________
The Interviews page on my forays website been revised to make it easier to find and access interviews with Ken Wapnick and others including Gloria Wapnick, and FACIM staff teachers. These interviews provide a wealth of practical information about learning to live a truly forgiving life, as well as some history of the Foundation for A Course in Miracles.
_______________________
In this NEW VIDEO, friend and fellow Course student and teacher Bruce Rawles and I discuss the challenges of trying to practice A Course in Miracles workbook lesson 330: "I will not hurt myself again today." https://www.youtube.com/watch?v=m4RJosel0zA&feature=youtu.be
In this NEW AUDIO recording of a show I did with CA Brooks, 12Radio, we review the practice of forgiveness through A Course in Miracles workbook lessons 5 and 34 http://www.12radio.com/archive.cfm?archive=0C205831-26B9-4187-86FD0B745FCD31FE.
MY LATEST BOOK, FORGIVENESS: THE KEY TO HAPPINESS, http://www.amazon.com/Forgiveness-Happiness-Susan-A-Dugan/dp/0983742022, along with my second book in the forgiveness essay collection series, FORGIVENESS OFFERS EVERYTHING I WANT: http://www.amazon.com/Forgiveness-Offers-Everything-I-Want/dp/0983742014/ref=pd_bxgy_14_img_2?ie=UTF8&refRID=07RKZW8SHE2RNC209A2D  are currently DISCOUNTED on Amazon.
Schedule individual MENTORING sessions with Susan Dugan here: https://www.foraysinforgiveness.com/personal-coaching  Although A Course in Miracles is clearly a self-study program and the one relationship we are truly cultivating is with our eternally sane and loving right mind, mentoring can help remind Course students having trouble applying its unique forgiveness in the classroom of their lives that the problem and the solution never lie in the difficult relationship, situation, behavior, health issue, etc., but in the decision-making mind. In every circumstance, without exception, we can choose to experience inner peace and kindness toward all, unaffected by the seemingly random strife of a world designed to prove otherwise. By choosing to look at our lives as a classroom in which we bring all our painful illusions to the inner teacher of forgiveness who knows only our shared innocence beyond all its deceptive disguises, we learn to identify and transcend the ego's resistance, hold others and even ourselves harmless, and gently allow our split mind to heal. 
Susan's mentoring sessions provide valuable support in our forgiveness practice from a Course student and teacher deeply committed to awakening through learning and living true forgiveness. While keenly aware of our resistance to Jesus' loving message from first-hand experience, she remains faithful to opening her heart to the Course's universal answer for all frightened hearts and to sharing her ongoing learning and growing trust with kindred faithful, but sometimes frightened and confused, fellow students.
Sessions are conducted via traditional phone or Skype (your choice). Please contact me to find out if mentoring is right for you before submitting a payment. (No one is ever turned away for lack of ability to pay!)
OTHER RECENT AUDIOS:
Here's a recording I did with CA Brooks, 12Radio, in which we talk about the importance of catching our unkind thoughts and judgments and looking at them with the part of our mind that sees no differences and makes no comparisons … even while watching the news! http://www.12radio.com/archive.cfm?archive=584A85D9-26B9-4187-86B672216F9D08E7 …
A recording on Changing the Purpose of the Body from Prison to Classroom: http://www.12radio.com/archive.cfm?archive=C936F436-26B9-4187-862BC523BC16D778, and another on what it means to go "above the battleground" (ACIM Text 23, Section IV) http://www.12radio.com/archive.cfm?archive=13D9C907-26B9-4187-86F1370A394E8755
And a recording in which we talk about ACIM workbook lesson 101: "God's will for me is perfect happiness" and 102: "I share God's will for happiness for me." http://www.12radio.com/archive.cfm?archive=16BFF184-26B9-4187-86DD07743FBB7355  You'd think we'd like to hear that God's will for us is perfect happiness, but we can't possibly believe that and also believe we attacked God and threw his love away.  Following our inner Teacher's path of true forgiveness begins to dissolve the guilt in our mind, teaching us that it was just silly to believe we could oppose God's will and create a separate one. Allowing us to gradually accept that we deserve the happiness we share within God's presence and could never really destroy.
OTHER RECENT VIDEOS:
Here's a video I did with Bruce Rawles on sharing perception with the Holy Spirit: https://www.youtube.com/watch?v=S45pmt7ntQ4
Here's a talk I did with Bruce Rawles on Section 16 of The Manual for Teachers: "How Should the Teacher of God Spend His Day." https://www.youtube.com/watch?v=JgHjOcxzrwg&feature=youtu.be …
In this VIDEO, Bruce Rawles and I discuss A Course in Miracles lesson 190: "I choose the joy of God instead of pain." https://www.youtube.com/watch?v=WPqUpNmAmG0
____________________
The Denver-based School for A Course in Miracles (formerly the School of Reason), an A Course-in-Miracles teaching organization, has a beautiful new website: http://www.schoolforacourseinmiracles.org/, with information on great new and ongoing classes based on Ken Wapnick's teachings.
In the San Francisco Bay Area, the Center for A Course in Miracles http://www.centerforacourseinmiracles.org/index.html, is an educational Center whose focus is to teach what A Course in Miracles says, address common misunderstandings, and help students develop a relationship with their internal Teacher, inspired and guided by the teachings of the late Dr. Kenneth Wapnick.
In this video Bruce Rawles and I discuss themes from my most recent book, Forgiveness: The Key to Happiness: https://www.youtube.com/watch?v=3vEbI3jH8Sk 
My good friend and fellow Course student, teacher, and author Bruce Rawles frequently invites me to chat with him on YouTube about the Course and Ken Wapnick's teachings. He continues to compile lots of great ACIM information well worth checking out at ACIMblog.com.
My good friend and gifted A Course in Miracles teacher and writer Bernard Groom has been posting beautifully written, heartfelt essays about living A Course in Miracles for years at ACIMvillage.com. Bernard lives and teaches in France with his dear wife Patricia. You'll find a wealth of information in French on his website including recorded talks available for purchase or free download.